.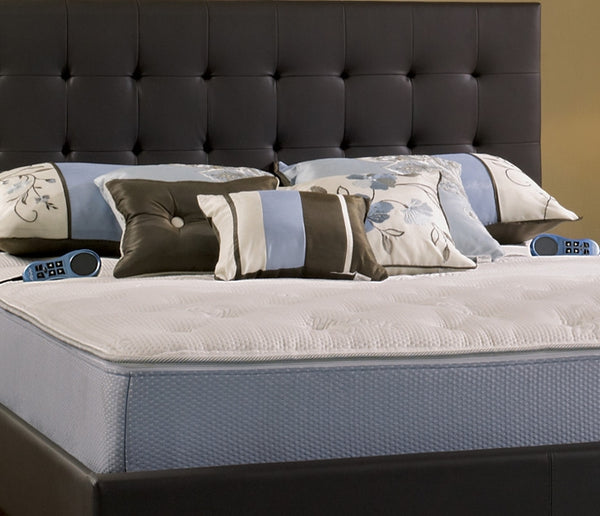 Ultra 6655 6-Zone Number Bed
Compare to Sleep Number® 2-Zone p5 and SAVE
This 10" adjustable number bed with personalized lumbar support has 2" of tri-zone sculpted GelLux™ foam for extra contouring comfort.

10" Total Mattress Height
Patented Tri-Zone Quilted Cover
2" Cooling GelLux™ Engineered Latex Foam

Compare Sleep Number® 2-Zone p5 to Night Air® 6-Zone 6655 and
SAVE OVER $900*
Don't be fooled by the fancy gadgets and gizmos of today's "Smart Beds", let Night Air's Smarter 6-Zone Number Bed engineering change the way you experience sleep for good. Other manufacturers only offer a dual chamber design and try to cover it up with gimmicks and other expensive add-ons that never truly enhance your sleep experience. Sleep smarter with Night Air's fully customizable head, foot and lower back adjustability that ensures you never have to settle for less than the best when it comes to your finding your body's unique support settings.
Six-Zone Technology Ensures Personalized Comfort for Each Side of the Bed
Separate Lumbar Adjustment
Plush Quilted Cover with Patented Tri-Zone Quilt Pattern
Stay Pure Removable/Drycleanable Cover Provides a Hygienic Sleep Surface
2" Tri-Zone Cooling GelLux™ Engineered Latex Foam Combines Liquid Gel with Engineered Latex for Cool, Responsive Comfort
8" High Density Foam Perimeter Support Tray Provides a Stable, Fixed Perimeter Around the Dual Air Cores and Prevents Edge Sag
Certified Eco-Friendly Foam Manufacturing
Heavy Duty TPU Air Cores Provide More Durable and Flexible Support Than Rubber Air Cores with No 'Rubber' Odor
Two Wired Digital LCD Hand Controls Come Standard and Allow For Individual Adjustment
Adjust the Head/Foot and Lumbar Areas from 1 to 100 in Single Digit Increments
10" Total Mattress Height
20 Year Limited Warranty