.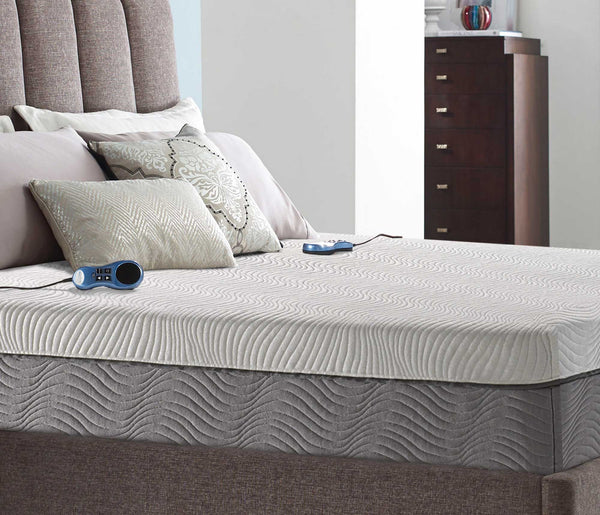 Supreme 2270 2-Zone Number Bed
Compare to Sleep Number® i10 and SAVE over 55%
This Boyd Night Air® 13" dual zone air bed features 3" of contouring gel infused memory foam and a removable, machine-washable plush knit cover with temperature regulating technology.
13" Total Mattress Height
Plush Knit Cover with Temperature Regulating Technology
3" Cooling Gel Infused Memory Foam
Arrives Fully Assembled
Compare Sleep Number® i10 to Night Air® 2270 and
SAVE 3,238.98*
The Boyd Night Air® 2270 dual zone air mattress offers exceptional value, comfort and support options when compared to the competition. Crisply tailored knit cotton cover is both durable and breathable for your enjoyment, and easily removes for machine washing or dry cleaning, ensuring you always have a clean, hygienic sleep surface. A 3" layer of gel infused memory foam with ventilating holes allows for cooling, responsive comfort, exclusive to Boyd Night Air®.

The Night Air® 2270 adjustable dual chamber air mattress is designed to meet your individual needs. With the touch of a button you can instantly find the perfect sleep setting from 1 to 100. Try this bed risk free and relax and recharge like never before.
Dual Air Chamber Technology Ensures Personalized Comfort for Each Side of the Bed
Plush Knit Cover with Temperature Regulating Technology Heats Up or Cools Down in Response to Your Body Temperature
Removable, Washable/Dry Cleanable Cover Provides a Hygienic Sleep Surface
3" Cooling Gel Infused Memory Foam Adds Pressure Free Contouring Support
Removable, Washable Micro Pure™ Fabric Sleeve Protects the Mattress from Condensation
Certified Eco-Friendly Foam Manufacturing
10" High Density Foam Perimeter Support Tray Prevents Edge Sag
Heavy Duty TPU Air Cores Provide More Durable and Flexible Support Than Rubber Air Cores with No 'Rubber' Odor (Excluding Eastern King)
Two Wired Digital LCD Hand Controls Come Standard and Allow For Individual Adjustment
Adjust Each Air Chamber from 1 to 100 in Single Digit Increments
13" Total Mattress Height
20 Year Limited Warranty
Sleep Number® i10
Night Air® 2270
Total Height
13"
13"
Adjustable Support
YES
YES
Air Chamber Material
Rubber
Thermal Polyurathane
Seams
Glued
Molecularly Bonded
Remote Number Settings
20 per chamber
(increments of 5)
100 per chamber
(single digit increments)
Auto Fill
NO
YES
UL Approved Transformer
NO
YES
Washable Cover
NO
YES
Comfort Foam
7"
3"
Hand Controls
$49.00 extra per control
2 FREE controls
Warranty
15 years
20 years
Shipping
$199.00
FREE**