.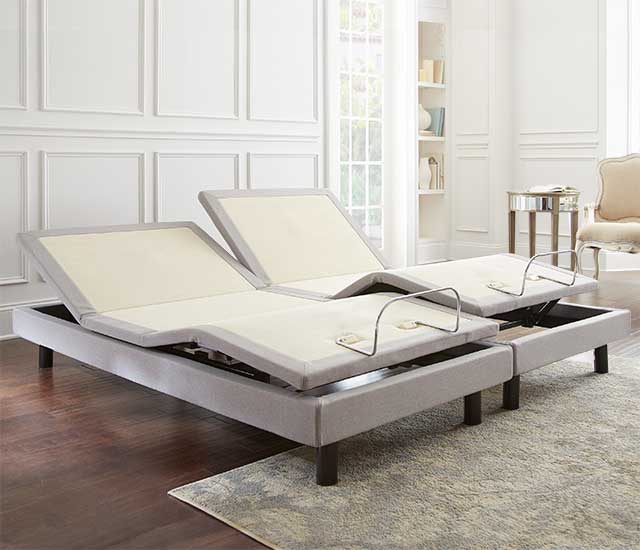 Power Base 6
Turn your bedroom into the sanctuary you always dreamed it could be. The wireless remote puts you in control of multiple rest and sleep positions, as well as relaxing massage. Remove the legs and use on a platform or storage bed.
Wireless hand control
One touch memory button
Auto zero gravity setting
Soothing massage and timer
Remove legs for use on platform or storage beds
Finally, an adjustable base that can be used on a platform or storage bed. You no longer have to sacrifice the convenience of under bed storage for adjustable comfort and support. The design of the Power Base 6 allows you to remove the legs and place the base directly on the existing support system of your platform or storage bed. Or, leave the legs attached and place inside a traditional bed frame. The choice is yours. Dramatically improve the quality of your sleep by settling into the zero gravity position, which takes all the stress and pressure off your joints and muscles. Use the wireless hand control to elevate your head and/or feet into the most comfortable position for whatever you are doing. Take advantage of the bed's built-in massage option and timer to enhance your relaxation even further. There is even an anti-snore feature! Go ahead, lie back, get comfortable and prepare yourself for the best night's sleep of your life.
Each Twin XL Power Base includes a pairing cable. If your prefer, you can link two Twin XL Adjustable Power Bases together for single operation to create one king size adjustable bed.
Full Range of Relaxing Head and Foot Positions
Greatly Increase Comfort, Improve Relaxation, Help Breathing and Relieve Lower Back Pain
Ergonomic Easy to Use Wireless Hand Controls
Back-Lit Buttons for Better Visibility in Low Light
One Touch of a Button Returns Bed to Flat Position
Memory Button Conveniently Stores Your Favorite Setting
One Touch Zero Gravity Button Allows You to Enjoy Pressure Free, Ergonomic Comfort
Anti-Snore Preset Button Slightly Raises Head of the Bed to Open Airways, Improve Breathing and Reduce Snoring
Wall Hugging Design Lifts the Base While Simultaneously Gliding Back, Which Keeps Your Nightstand Close
Separate Head and Foot Massage Options with Multiple Auto Timer Options
Sturdy Steel Frame With Attractive Neutral Gray Linen Look Upholstery Fits Any Decor
Removable Legs Allows for Zero Clearance Option
Base Can Be Placed On Platform or Storage Beds Without Interference
Two Quiet, Powerful, Maintenance Free Motors
15" Base Is Compatible with Conventional Bedding
20 Year Limited Warranty